A few summers ago, my family and I vacationed at Disney World. My youngest was six and everywhere she went, the cast members called her princess. She readily told them she was not a princess but a JEDI!
Socialization and gender labeling happens before birth. Gender reveal parties, pink or blue announcements, and nurseries decorated in either pinks and purples or blues and reds. Our children are not born believing only girls wear dresses and only boys play football, those are stereotypes that are taught.
I know talking about gender identity is a scary topic for parents. You don't want to invalidate or confuse your child. This book can be enjoyed with or without the deeper discussions. You know your child best and what I have discovered is to follow their lead.
Picture Book Stereotyping
Picture books often get involved in the gender stereotyping. Books for girls on the covers are often pastel, soft and gentle. "Boy books" are often about dirt, construction, and transportation. There is not only a diversity issue in the children's book world, there is also a problem with the gender roles established in the very books that are building children's understanding of the world.
My favorite book when I was a child was Nurse Nancy. Although I am sure I liked it because it came with its own bandaids. In the story Nurse Nancy wasn't allowed to play with the boys until one of them got hurt and she was needed to care for them. The companion book Doctor Dan was a book about a boy pretending to be a doctor. If I hadn't had different parents, I would have believed that only girls became nurses and boys became doctors, because even though it is 2018, it is a storyline still often told in the books for our youngest readers and listeners. It wasn't until my first daughter was born and I found the beloved Nurse Nancy book at the bookstore I realized how inappropriate the message of the book was!
I am happy to see more and more books are not gender specific, the authors and publishers could go a lot further in breaking down the dangerous gender roles that plague the advancement of girls (and boys) in our country.
All of that being said, Pink is for Boys by Robb Pearlman and Illustrated by Eda Kaban is a great book for babies, toddlers and preschoolers. It has simple text for listeners as young as 6 months, but preschoolers will also enjoy diving deeper into the conversations in the illustrations.
In this book your children will learn about colors and they will see diversity in the children on the page. All listeners will find a familiar face on the page. The vocabulary in the text is strong but also by using the pictures on the page, parents will have a lot of opportunities to describe the pictures and find new words!
Examples
On the first page spread is a dance party. In it point out the objects the child might not know, or use another word to describe a familiar object. Use baby grand piano instead of piano. Talk about the bunting in the window and mention when and why we use it. Name different shapes you see in the balloons, clouds, bunting, walls, piano keys and more. One page of illustrations will provide plenty of enriching conversation!
This will also be a great opportunity for preschoolers especially, to ask questions that go beyond what the words and illustrations show. For example the second page spread is about blue is for girls and boys. It shows a girl and boy in baseball uniforms. You can discuss what sports there are and name some that are unusual like polo, la crosse or running. To gauge your child's understanding of the book, you can ask who plays basketball or baseball or soccer. This book provides an opportunity to show our children that boys can do whatever girls do and girls can do whatever boys do!
Sometimes the simplest books pack the most educational punch for our kids. This book will keep the child engage, help them learn about colors and new words as well as help break the stereotype that boys and girls can like the same colors, clothes and games.
TALK: Million Dollar Words
Below are words that appear in the text or illustrations. Find ways to use these words in conversation. Another way to familiarize the child with the words are to point them out after reading the book, or stop and point out while reading.
Valance
Bunting
Catcher
Column
Chandelier
Track
Dribbling
Fragile
Cuddle
TALK: Build Reading Comprehension. Ask Questions!
Don't only read the book. Ask questions! It helps build reading comprehension and it also builds enjoyment. Don't know where to start? Begin with these and add your own. Even have your child ask YOU questions.

PLAY: Low Cost Enrichment
Read the book and then try some of the activities in the youtube video. Lots of great ways to help kids learn sorting, ordering and more. All which help increase reading comprehension. Included in this video are ideas on strengthening the pincer grip which helps children learn to write.
Sing
Try this song from Teaching Mama. It will help your child identify colors and label clothing and follow directions.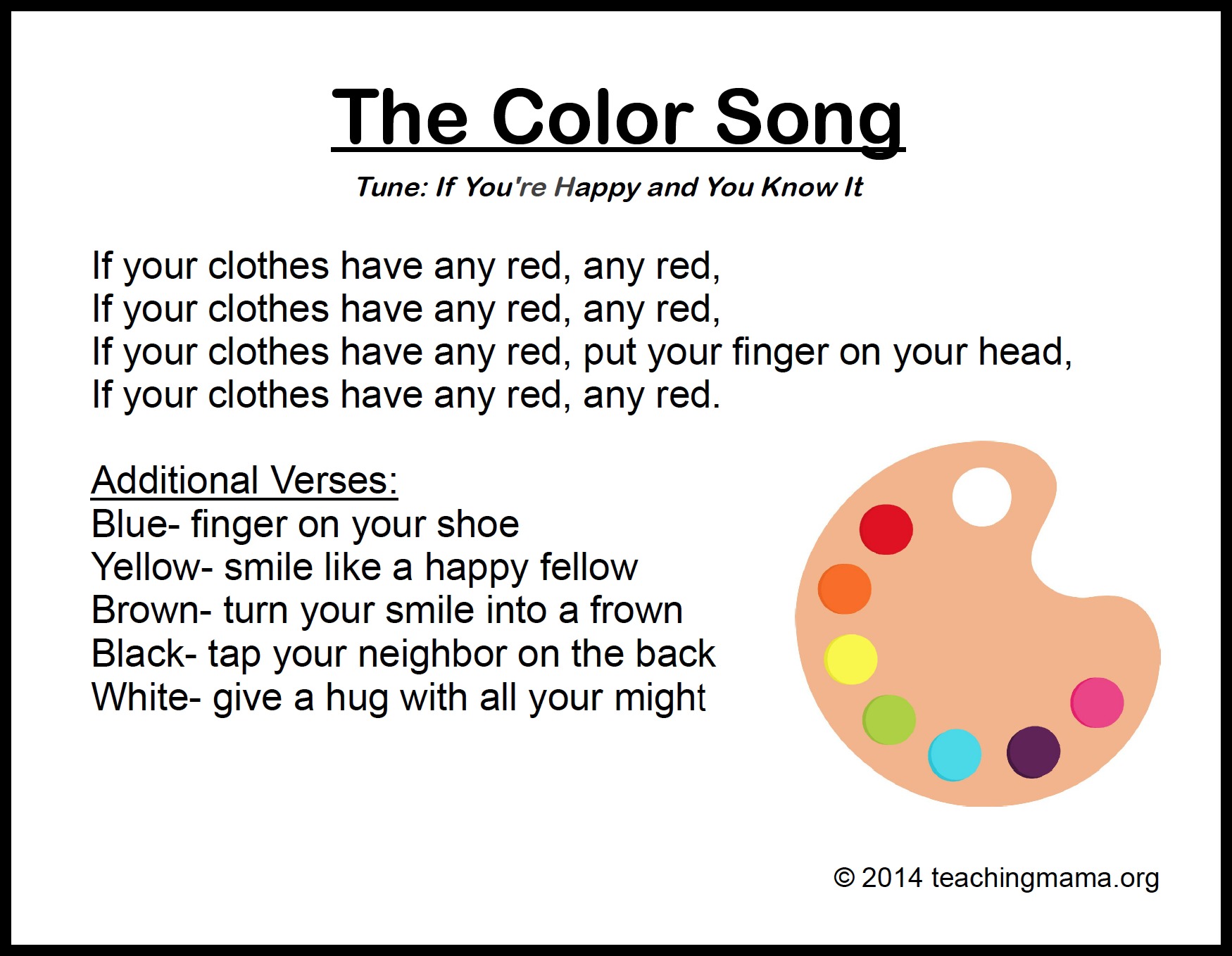 Retrieved from Teaching mama on September 3, 2018 at https://teachingmama.org/10-preschool-songs-colors/
PLAY
Learning isn't only about reading and information. Our children need to play more than any other activity at this stage in life. Some ideas for independent play:
Create a dress up box. Include items from mens closets as well as women's. Thrift stores are a great place to find gently used items.
If you have a back or front yard, take off your child's shoes and socks and let them run around in bare feet. There is a lot of research that shows the link between no shoe childhoods and brain development. Read an article in the Washington Post here
Find a park or a safe space and let your child pedal on a bike, tricycle, or any other object that moves. They can pretend they are on the race track like the children in the book. Get a book out for yourself and watch the play.
Julian plays dress up after spotting three beautiful women on the subway ride home. He makes a mess and is worried how his Abuela will feel when she sees what he's done.
The colors fight and a big mess ensues. See how they solve their problems.
A blue crayon is labeled red and must find a way to follow its heart no matter what obstacles the crayon faces.
Annie is forced to wear a dress to a wedding and Annie hates dresses. See how she overcomes this dilemma.
Share in the comments different ways you find to include the Million Dollar words in your conversations.